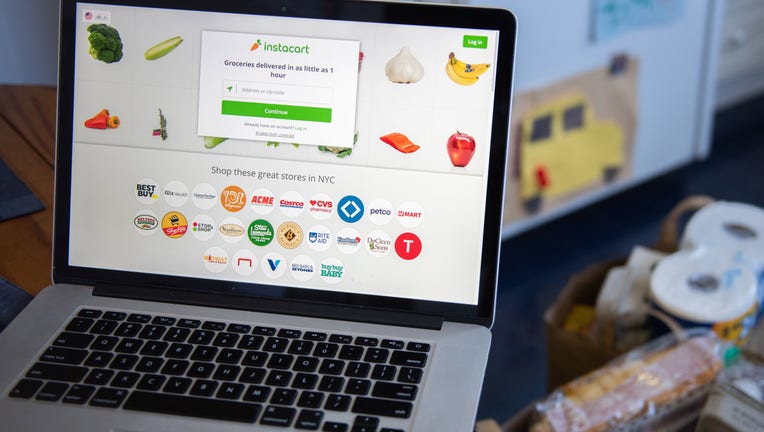 article
The Instacart website on a laptop computer arranged in Hastings-on-Hudson, New York, U.S., on Monday, Jan. 4, 2021. Photographer: Tiffany Hagler-Geard/Bloomberg via Getty Images
Instacart Shares Surge in Stock Market Debut
Instacart's shares surged Tuesday in the grocery delivery company's stock market debut.
The San Francisco-based company's shares were up about 30% shortly after they started trading on the Nasdaq stock exchange under the ticker symbol "CART."
Instacart Raises $660 Million in IPO
Instacart raised $660 million in its initial public offering, selling 22 million shares at $30 apiece. The pricing of the IPO gave Instacart a market value of around $10 billion, significantly lower than the $39 billion value placed on it after a fund-raising round in 2021.
Instacart's Services and Potential
Instacart provides delivery and pickup from 85% of U.S. grocers, or more than 80,000 stores, using a network of 600,000 freelance shoppers.
It also provides in-store technology, like smart carts and electronic shelf tags, and sells online ads to food companies and retailers.
It has 7.7 million active customers who spend about $317 per month on the platform.
Instacart CEO Fidji Simo expects the online grocery market to at least double over time.
Competition and Challenges
Instacart faces growing pressure from companies including Uber Eats and DoorDash, which both began delivering groceries in 2020.
As of August, Instacart controlled 70% of the third-party U.S. grocery delivery market, according to YipitData. DoorDash controls around 10%.
Instacart also faces pressure from grocers themselves, who sometimes prefer to do their own deliveries.
Instacart orders can cost consumers 15% to 20% more than shopping in stores because of delivery fees and product markups.
Instacart's Financial Performance
Instacart's revenue was up 31% to $1.47 million in the first six months of this year. The company reported net income of $242 million in the same period.
Instacart's IPO and Future Outlook
The IPO is a long-awaited step for Instacart, which was founded in 2012. PepsiCo is among those bullish about Instacart's prospects, agreeing to buy $175 million in convertible preferred stock in a private placement.
Instacart needs to keep its customers coming back because it relies on them to sell ads. However, it faces competition and challenges in the growing online grocery market.