Durable goods prices fall. Fed favored "core" PCE price index re-accelerates.
By Wolf Richter for WOLF STREET.
Services inflation is at it again. Year-over-year, the "core services" PCE price index accelerated to 5.4%, the second worst since 1985, according to data by the Bureau of Economic Analysis today, sharing that spot with January 2023. February had been the worst.
The Fed's job is far from done. Powell has been fretting about core services inflation for a year, and today he got what he worried about he'd get: an acceleration of core services inflation, especially in the red-hot "non-housing services":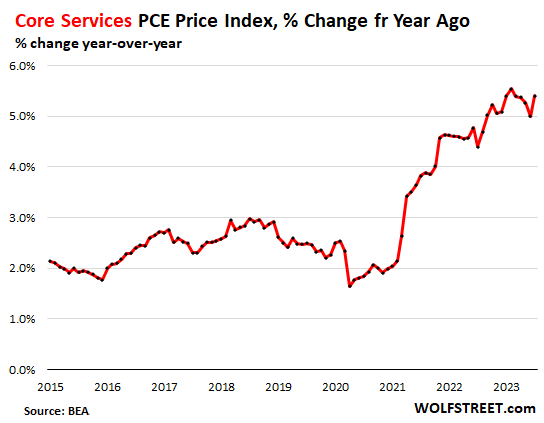 Month-to-month, the "core" services PCE price index
Jumped by 0.46% in July from June (5.7% annualized)
The second month in a row of acceleration
The three-month moving average accelerated to 0.36%
In core services is where inflation has gotten entrenched. Durable goods prices fell on falling prices of motor vehicles, electronics, home furnishings, etc. But inflation in services is where it's at, and where it is very hard and frustrating to eradicate from.
Massive increases in non-housing services
Housing: +0.42% (5.2% annualized)
Transportation services: +1.03% (13.1% annualized)
Recreation services: +0.79% (9.9% annualized)
Financial services and insurance: +1.64% (21.6% annualized), which people have already figured out from their new insurance premiums.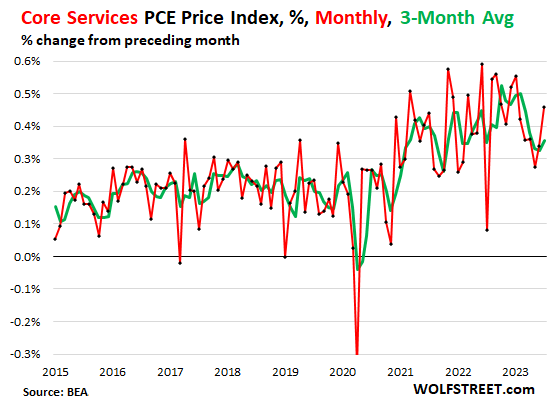 Durable goods PCE price index plunged
Motor vehicles: -0.65%
Furnishings and durable household goods: -0.23%
Recreational goods and vehicles: -1.11%.
"Other" durable goods: -0.37%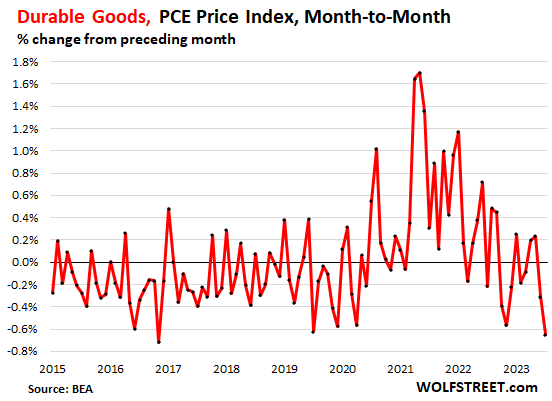 PCE price index for durable goods fell
Year-over-year, the PCE price index for durable goods fell by 0.8%. The index for durable goods was negative year-over-year due to manufacturing efficiencies, offshoring, competition, and hedonic quality adjustments.
The durable goods PCE price index is now normalizing, giving up some of the price spikes of 2021.