Bitcoin Spark: The Sustainable Alternative to Bitcoin
Bitcoin (BTC) is undeniably the largest and most popular cryptocurrency, but as a first-generation crypto, it has many limitations. Bitcoin Spark (BTCS) has emerged as a beacon of sustainability and is outshining Bitcoin.
Bitcoin Mining
Bitcoin relies on a Proof of Work (PoW) consensus mechanism, where miners compete to solve complex mathematical puzzles, and the first one to solve it gets the right to add a new block to the blockchain, earning newly minted Bitcoins and transaction fees. However, PoW has long been criticized due to the immense computational power required and its effect on the environment. Additionally, PoW has the risk of centralization due to the electricity and significant investments required to mine. This is seen where Antpool and Foundry USA, two prominent BTC miners, could combine and control over 50% of the hashrate.
Bitcoin Price Outlook
Bitcoin (BTC) is approaching a crucial support level at $25,400. The likelihood of a further downward trend is reinforced by a bearish engulfing candle on the four-hour and a bearish crossover below the 50-day moving average. Both the MACD and RSI indicators also suggest bearish momentum. If Bitcoin falls below $25,400, it may find support at $24,600, with $24,150 as a strong base. Resistance at $25,900 is significant, but a bullish breakthrough could lead to a climb to $26,400 or even $27,000.
Bitcoin Spark
Bitcoin Spark seeks to solve Bitcoin's limitations while carving out a distinct path for itself. It retains a limited supply of 21 million but with a longer time until the maximum supply is created.
The Bitcoin Spark network offers faster and more cost-efficient translations by increasing the individual transaction capabilities per block, reducing the block time, and significantly augmenting the number of nodes. Bitcoin Spark also establishes itself as a robust platform with applications that extend simple Peer-to-Peer transactions. It offers a scalable infrastructure for building smart contracts and decentralized applications (dApps) through a multi-layered design that allows developers to use different high-level and low-level programming languages.
Bitcoin Spark Mining
Bitcoin Spark uses its proprietary consensus mechanism called Proof-of-Process (PoP). The PoP includes aspects of Proof-of-Work and Proof-of-Stake (PoS), necessitating miners to stake and contribute processing power to the network for them to confirm blocks and earn rewards.
The miners' processing power will be rented out to the network's clients as remote computing power, ensuring the power used in mining gets actual work done in the real world. The rewards for miners are then calculated as a blend between their individual stake and the work done by those using the network for remote computing. Bitcoin Spark uses the PoP with an algorithm that decreases rewards per additional stake and power to ensure those with increased mining capabilities earn more, but not in a way that is unbalanced by fiat-equivalent net worth. This, coupled with a massive number of network nodes, allows Bitcoin Spark to have a greater number of miners, even those with low-powered devices.
The Bitcoin Spark development team will provide an application compatible with Windows, Mac OS, Linux, iOS, and Android devices, which will enable users to mine by permitting access to their device's processing unit. The Bitcoin Spark application will work in a separate virtual environment that doesn't interfere with any other part of the device. It will also regularly adjust the processing power used to account for overheating, battery, and simultaneous usage needs. This greatly reduces the work and power consumption required for mining.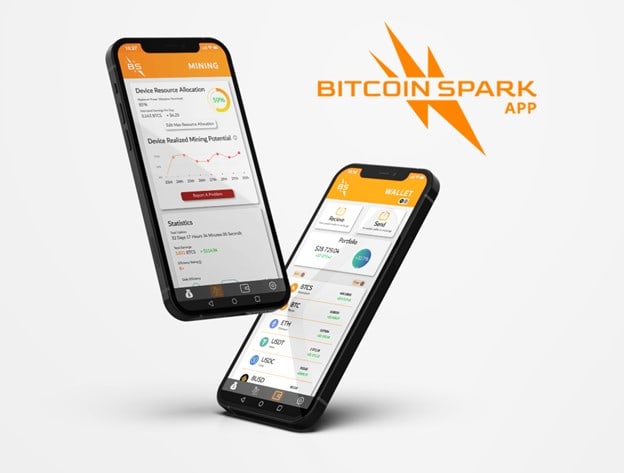 Notably, those who use the network for remote computing pay for the service using BTCS, which is forwarded to the mining pool. The BTCS minting rewards runs on an elastic system that factors in the revenue generated within the network. If more revenue is earned, the BTCS minting rewards are reduced proportionally, and the minting endpoint moves further. This ensures that Bitcoin Spark miners remain profitable in the long term. Bitcoin Spark will include secondary revenue-generating services within its network to achieve this goal, including having small slots for ads on its application and website.
Bitcoin Spark is offering investors a chance to get BTCS before its official launch through an ICO (Initial Coin Offering). The project's team has conducted several KYC audits to assure investors of the security of their investments. The ICO is in Phase 4, selling BTCS at $2.25, with a complementary 10% bonus.
For more on Bitcoin Spark:
Website: https://bitcoinspark.org/
Visit BTCS ICO: https://network.bitcoinspark.org/register
Disclaimer: The above article is sponsored content; it's written by a third party. CryptoPotato doesn't endorse or assume responsibility for the content, advertising, products, quality, accuracy, or other materials on this page. Nothing in it should be construed as financial advice. Readers are strongly advised to verify the information independently and carefully before engaging with any company mentioned and do their own research. Investing in cryptocurrencies carries a risk of capital loss, and readers are also advised to consult a professional before making any decisions that may or may not be based on the above-sponsored content.
Readers are also advised to read CryptoPotato's full disclaimer.
SPECIAL OFFER (Sponsored)
Binance Free $100 (Exclusive): Use this link to register and receive $100 free and 10% off fees on Binance Futures first month
(
terms
).
PrimeXBT Special Offer: Use this link to register & enter CRYPTOPOTATO50 code to receive up to $7,000 on your deposits.