G20 New Delhi Leaders' Declaration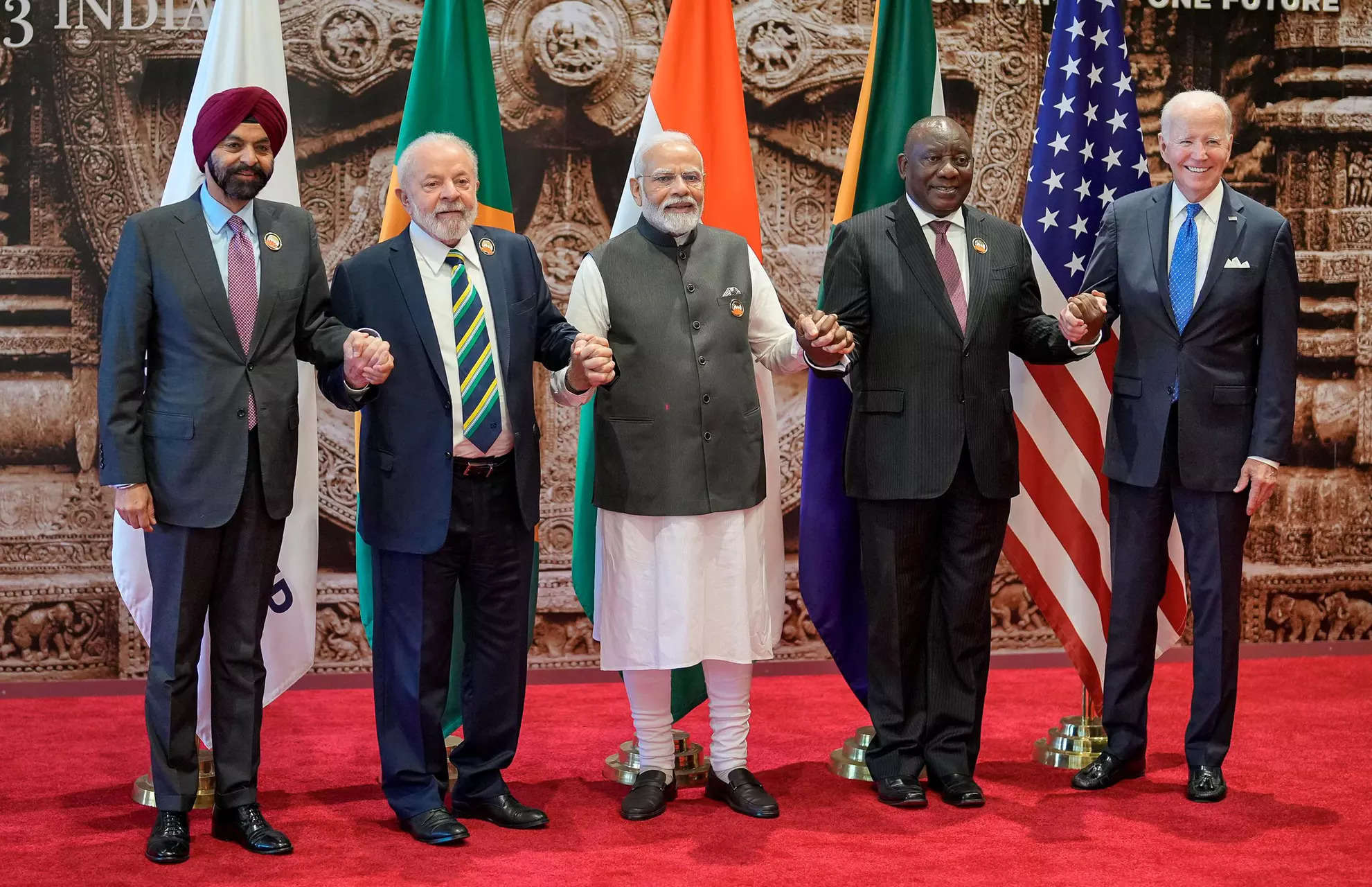 The G20 New Delhi Leaders' Declaration, adopted by all G20 nations on Saturday, focuses on promoting strong, sustainable, balanced and inclusive growth. The declaration talks about developing an action plan for making progress on Sustainable Development Goals.
The declaration notes that the G20 nations have agreed to develop enabling environments which can foster innovation, voluntary and mutually agreed technology transfer, and access to low-cost financing. The declaration has a section on using present and emerging technologies for transforming societies. There is talk of building sustainable and inclusive Digital Public Infrastructure in all nations.
"Technology can enable rapid transformations for bridging the existing digital divides and accelerate progress for inclusive and sustainable development. Digital public infrastructure (DPI), as an evolving concept and as a set of shared digital systems, built and leveraged by both the public and private sectors, based on secure and resilient infrastructure, and can be built on open standards and specifications, as well as opensource software can enable delivery of services at societal-scale," the Declaration says.
The Declaration takes note of India's success in building Digital Public Infrastructure. It says: "Welcome India's plan to build and maintain a Global Digital Public Infrastructure Repository (GDPIR), a virtual repository of DPI, voluntarily shared by G20 members and beyond… Take note of the Indian Presidency's proposal of the One Future Alliance (OFA), a voluntary initiative aimed to build capacity, and provide technical assistance and adequate funding support for implementing DPI in LMICs."
The Declaration promises financial inclusion for all of humanity: "We resolve to deploy all available digital tools and technologies and spare no effort in fostering safe and resilient digital ecosystems, and ensuring that every citizen on our planet is financially included."
There is talk of regulating crypto currencies:
"We continue to closely monitor the risks of the fast-paced developments in the crypto asset ecosystem. We endorse the Financial Stability Board's (FSB's) high-level recommendations for the regulation, supervision and oversight of crypto-assets activities and markets and of global stablecoin arrangements. We ask the FSB and SSBs to promote the effective and timely implementation of these recommendations in a consistent manner globally to avoid regulatory arbitrage."
The Central Bank Digital Currencies are promoted in the Declaration as a 'good' alternative to crypto currencies:
"We welcome discussions on the potential macro-financial implications arising from the introduction and adoption of Central Bank Digital Currencies (CBDCs), notably on cross-border payments as well as on the international monetary and financial system."
The Declaration takes note of the rise of AI technologies and advocates global regulation to ensure that AI is used responsibly for social good.
"The rapid progress of AI promises prosperity and expansion of the global digital economy. It is our endeavour to leverage AI for the public good by solving challenges in a responsible, inclusive and human-centric manner, while protecting people's rights and safety. To ensure responsible AI development, deployment and use, the protection of human rights, transparency and explainability, fairness, accountability, regulation, safety, appropriate human oversight, ethics, biases, privacy, and data protection must be addressed."
Acknowledging the fact that the developing nations have to be supported in their transitions to low carbon fuels to reduce their emissions, the declaration says that the leaders will work towards facilitating low-cost financing for them. The Declaration shows that there is a consensus among nations on the need to accelerate the production and utilization of green hydrogen.