Popular Crypto Casino Stake Hacked for $41.3 Million
Crypto Sleuth ZachXBT shares the cost of the exploit
Crypto casino Stake has fallen victim to a security exploit, resulting in the loss of over $41.3 million. The incident was first flagged by analyst Cyvers, who discovered a private key leak that allowed hackers to withdraw $15.7 million worth of ether (ETH) from Stake's Ethereum wallet. Additionally, $25.6 million was stolen from Stake's Polygon and Binance Smart Chain wallets and converted to ETH before being sent to external wallets.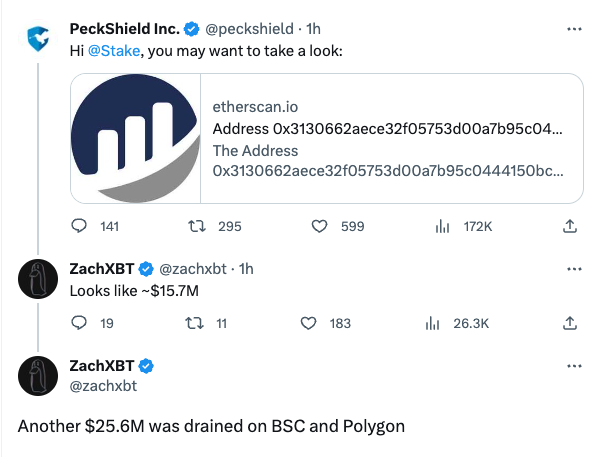 Stake, an Australian crypto casino and sportsbook, generated $2.6 billion in revenue in 2022. Despite the hack, it still holds around $2.4 million in its compromised Ethereum wallet. Withdrawals have been paused, as reported by users on Twitter.
This incident highlights the ongoing security weaknesses in crypto platforms, putting user funds at risk. Stake is the latest platform to be exploited by hackers, following last year's wave of breaches known as "Hacktober."
Stake has yet to issue an official statement regarding the hack, leaving many questions unanswered for its customers.
As the crypto industry faces a downturn, security measures become even more crucial. The Stake hack serves as a reminder of the urgent need for robust safeguards and protocols across the industry.
Also read: Australia Rejects Crypto Regulation Bill