Bitcoin Market Sees Divergence Between Long-Term and Short-Term Holders
Bitcoin Market Has Been Continuing Its Shift Towards HODLing
On-chain data shows the divergence between the Bitcoin long-term holders and short-term holders has grown to record levels recently. As an analyst in a post on X explained, the gap between the speculators and HODLers in the market has only grown wider recently. The "short-term holders" (STHs) and the "long-term holders" (LTHs) are the two primary cohorts that the entire Bitcoin market can be divided into.
Understanding Short-Term and Long-Term Holders
The STHs refer to all those investors who purchased their coins less than 155 days ago, while the LTHs include the holders who have been holding onto their tokens beyond that period. Statistically, the longer an investor keeps their coins dormant, the less likely they become to sell them at any point. Due to this reason, the STHs are usually the group with the weaker conviction of the two. The LTHs often hold through volatile periods in the asset without moving an inch, which has earned them the popular name "diamond hands." The STHs, on the other hand, tend to sell quickly whenever FUD emerges in the sector, or a profitable selling opportunity appears.
Chart Showing the Trend in BTC Investor Groups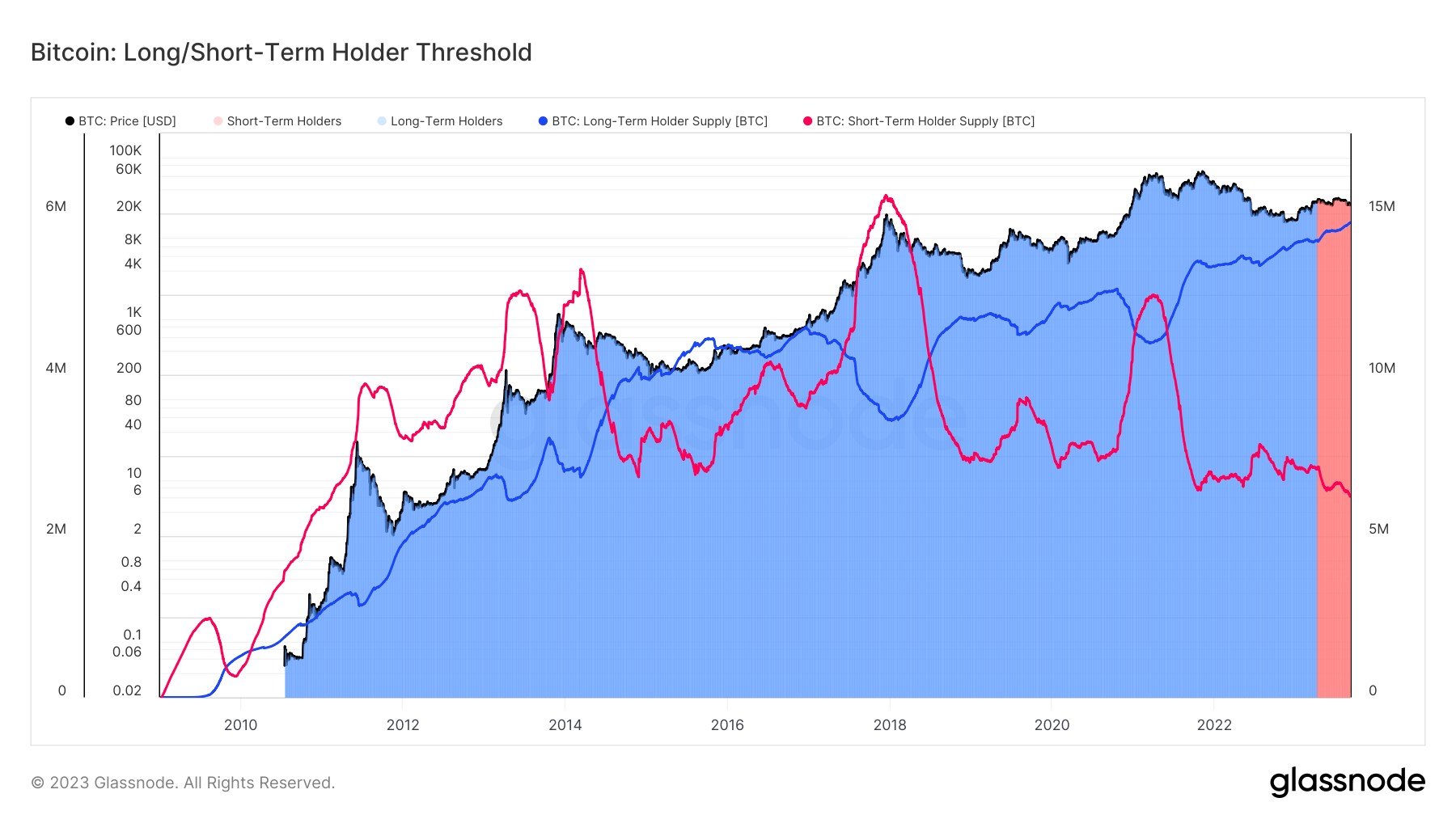 Looks like the two metrics have been going in opposite directions to each other | Source: @jimmyvs24 on X
The graph shows that the Bitcoin LTH supply has been on an uptrend during the past couple of years, while the STH supply has been going down recently. This would suggest that the overall supply of the cryptocurrency is continuously becoming more dormant. The gap between these groups is the widest it has ever been, as the LTH supply is nearing the 15 million BTC mark, while the STH supply has dropped under the 2.5 million BTC level. The latter's latest value is the lowest it has ever been since 2011 when the asset was still in its infancy. It would appear that short-term speculators in the market have thinned to record lows.
BTC Price
At the time of writing, Bitcoin is floating around the $25,700 mark, registering a dip of 6% over the past week.
BTC remains unable to show a break in either direction | Source: BTCUSD on TradingView
Conclusion
The Bitcoin market is currently experiencing a significant divergence between long-term holders and short-term holders. The trend shows that more investors are shifting towards HODLing their coins for longer periods. While this may not have an immediate impact on the market, the increasing supply being locked in the wallets of long-term holders could have a bullish effect in the long run. As for the BTC price, it has seen a slight dip in the past week, hovering around $25,700.
Featured image from Kanchanara on Unsplash.com, charts from TradingView.com, Glassnode.com