Bitcoin Exchange Supply Increases by 3.1%
Recent on-chain data from Santiment shows that the supply of Bitcoin on exchanges has increased by 3.1% in the past two weeks. This could have significant implications for the market.
What Does an Increase in Supply on Exchanges Mean?
When the supply of Bitcoin on exchanges goes up, it means that more investors are depositing their coins onto these platforms. This is often done in preparation for selling.
An increase in supply on exchanges can be a potential sign that a selloff is imminent, which can have a bearish effect on the price of Bitcoin.
Decrease in Supply on Exchanges Indicates Accumulation
Conversely, a decrease in the supply of Bitcoin on exchanges suggests that investors are accumulating the cryptocurrency. This reduced possibility of selling can be bullish for the price in the long term.
Recent Trend in Bitcoin Supply on Exchanges
The chart below shows the trend in the Bitcoin supply on exchanges over the past few months: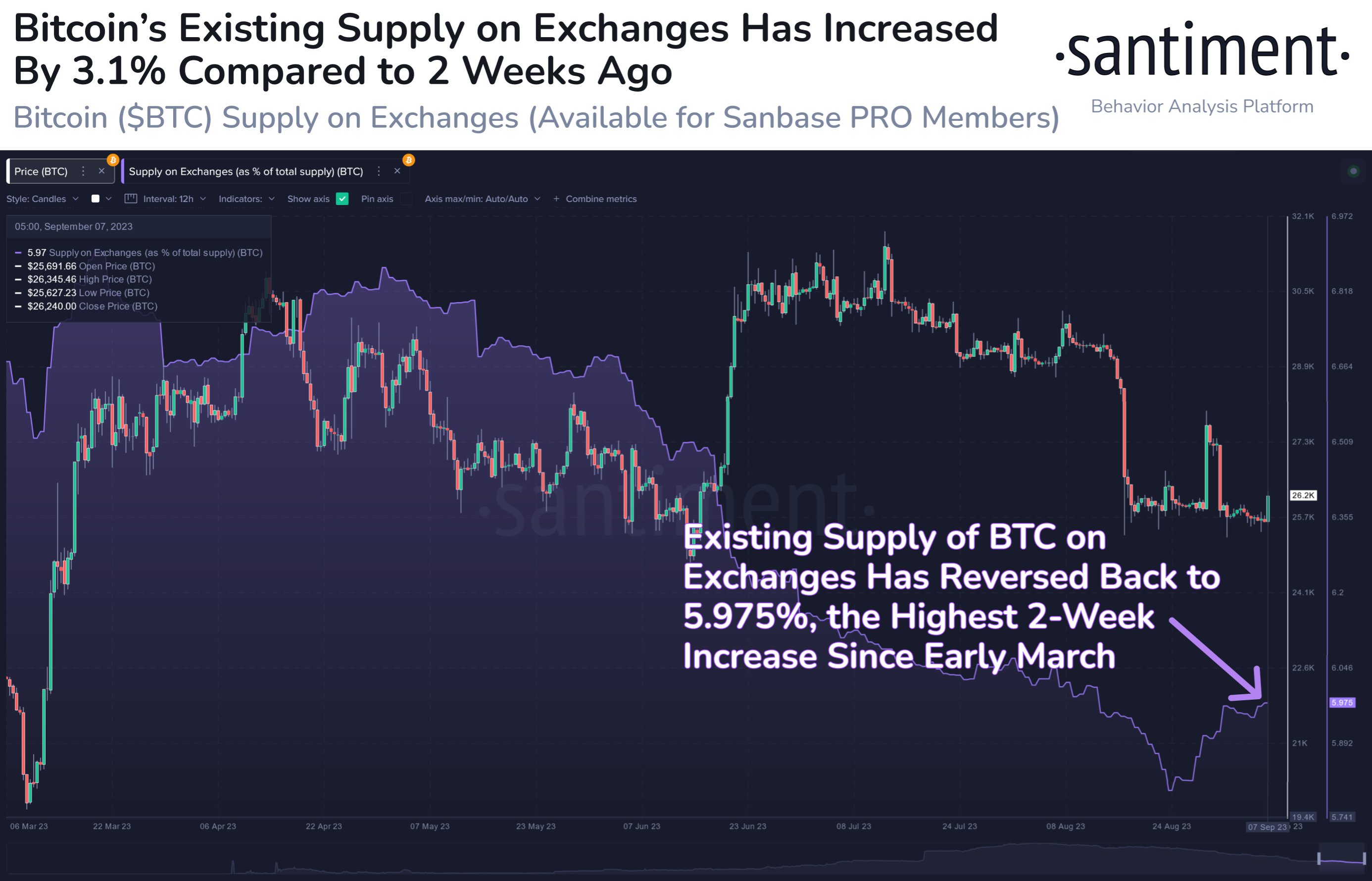 The value of the metric seems to have been going up in recent days | Source: Santiment on X
As seen in the graph, the Bitcoin supply on exchanges had been declining for several months. However, in the past couple of weeks, the metric has reversed its trend and increased by 3.1%. This is the highest increase observed since early March.
Many of these deposits were made before and during the Grayscale rally. It is likely that investors made these transactions in preparation for selling.
Bitcoin Retraces Surge Towards $26,400
Bitcoin recently experienced a surge towards the $26,400 level, but it quickly retraced and returned to the $25,800 mark.
This quick retrace suggests that investors who had deposited their coins on exchanges have started selling, which has had a bearish impact on the asset.
BTC continues to move sideways | Source: BTCUSD on TradingView
It is important to note that the market is constantly changing, and these trends may shift in the future. Stay updated with the latest news and analysis to make informed investment decisions.
Featured image from Kanchanara on Unsplash.com, charts from TradingView.com, Santiment.net